Roll over image to zoom in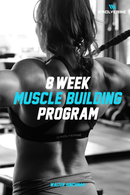 Description
If you're serious about building more muscle mass, then you're going to need a serious shift in your mental fortitude. Building more muscle and gaining mass, requires hard work, commitment, and accepting the fact, that you might not have chiseled abs and a killer physique. The biggest hurdle to building more mass is to constantly remind yourself of the end goal. Hitting high rep counts and burning body fat is one thing, but slowing everything down, gaining weight, all for the goal of building more muscle, can meddle with your mind. If you're willing to accept the challenge, then this program is for you. We're going to teach you how to build more muscle and give you an 8-week muscle-building program, to help you gain the size you need to bulk and build.  
Includes
This workout follows a standard 4-day split, with a full-body heavy complex on day 4. To build more muscle, you have to increase the rest intervals, therefore, rest time is 2-3 minutes between each exercise, with a 1:1 tempo. This program requires minimal equipment and can be performed at home. 
This muscle-building program will help you produce more strength, power, and gain the size you've been wanting. Follow the split, and increase the load, so that you can comfortably get to the prescribed amount of reps. On the last two reps, you should be struggling to complete them. In order to build more muscle, your body needs to break down muscle tissue. Without enough resistance, you will not build more strength and mass. So, make sure the weight selected is challenging, without compromising your form. If you cannot complete the prescribed number of reps, without compromising form, lower the weight and complete the set.
Increased Muscular Strength
Increased Muscle Mass
Reduced Pain Intensity
Improved Peak Power Output
Minimal Equipment Needed (Kettlebells, Barbell, Dumbells, Bench)
Supplement Plan 
Foods List
8-Week Muscle Building Program PDF
I like the program because is very simple to follow and gives me options on equipment.
8-week program
I like the variety of exercises provided. I also like that this program focuses on dumbbell variations instead of relying on cables. Not every gym has enough cables to go around. I only give it 4 stars because it's only one week's worth of exercises… you have to know to increase weight and variation reps in order to continue to see results. Overall, I am very pleased with the program. I have 3 of the Swolverine programs and I am satisfied with all three
You Got This!
This is a great program. I wasn't expecting how intense it was going to be. I was used to doing Cardio like running at least 3 times a week. But when I did the first work out I really thought I was going to die (lol). I really enjoy this workout program and would recommend it to all fitness levels.
Feeling it
First workout, I was wowed by how I felt. Hit all the right muscle groups. A week later, my muscles were fatigued but happy. This program is gonna bring the results. So happy I got this!!
Awesome plan
Easy to follow and had a good variety.
Payment & Security
Your payment information is processed securely. We do not store credit card details nor have access to your credit card information.
Customer Reviews
01/14/2022
Lisa H.

United States
I recommend this product
Already stronger
I'm starting week 3 and my light weight is already 5 lbs higher than when when I started!
Lisa! That is amazing, we are so excited for you.
01/02/2022
Georgia

United States
I recommend this product
Very helpful
I enjoyed the free programs. They helped me to give more variety to my muscle building journey.
So glad the program is helping you! Excited to see your results
12/21/2021
Rory G.

United States
I recommend this product
Product Review
Customer service was great & order process was a breeze!
Thanks for the great review Rory. You can download your free cookbook here https://bit.ly/3sic9VV
12/20/2021
Gabriel D.

United States
I recommend this product
Consistency is key
While remaining consistent I had wonderful result. However, I became in consistent in following through on the program. So my results began to fall short. If you are looking for a program that will definitely get the results this is a great option. Just follow through!
Gabriel! You are right consistency is key, and we believe in you. It's never too late to start up again, and we can not wait to help you reach your goals. Thank you! You can download your free cookbook here https://bit.ly/3sic9VV
12/20/2021
Angie G.

United States
I recommend this product
Change in body composition
I really love swolverine, since I have been implementing the workouts and their products my body composition has drastically changed. It takes commitment but if you really want to change you need to put in the work.
Angie! Seriously so excited to help fuel your performance and training. You are the reason why we do what we do. Thank you! You can download your free cookbook here https://bit.ly/3sic9VV