Roll over image to zoom in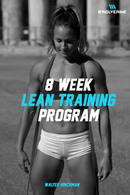 Description
Building lean muscle mass and shedding body fat takes more than just increasing your protein intake and working out a few days a week. It takes dedication, relentless commitment, and hard work. With our eight-week lean training program, you'll be able to increase your strength, build more muscle, burn more body fat, and get into the best shape of your life. With a mix of periodized resistance training, high-intensity functional training, and cardio acceleration, you'll turn into a fat-burning machine and start seeing results in no time. 
Includes
Eight Week Lean Training Program

Functional Foods List

Nutritional Tips & Tricks

Supplement Guide
Payment & Security
Your payment information is processed securely. We do not store credit card details nor have access to your credit card information.