Roll over image to zoom in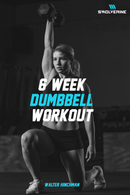 Description
You don't need a fully equipped gym to still be in the best shape of your life. Dumbbells are an amazing training tool, that can help you build more muscle mass and strength. Dumbbells also help improve core strength, stability, and can correct muscular and postural imbalances. With this 6-week dumbbell workout program, you can start turning up your sweat, and crushing more calories all from the comfort of your own home.  
Includes
This 6-week dumbbell workout program will only require dumbbells and a workout bench. This program is perfect for those working out from home, traveling and who need a consistent workout program to perform at their hotel gym with minimal equipment, or for those that want to start a new training protocol at their local gym. 
The main goal of this dumbbell workout is to increase muscle mass and strength while optimizing body composition and burning body fat. This program follows a  5-day split, with two full rest days
Minimal Equipment
At Home Workout
Weight Loss
Increased Muscular Strength
Increased Muscle Mass
Improved Mobility
Reduced Pain Intensity
Enhance Muscularly Endurance
Improve Peak Power Output
Enhance Aerobic/Anaerobic Capacity
Supplement Guide
Payment & Security
Your payment information is processed securely. We do not store credit card details nor have access to your credit card information.