Roll over image to zoom in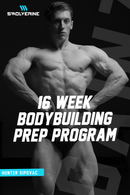 Description
Prepping to become a bodybuilder is no easy task. Optimizing your training regimen, nutrition protocol, and supplement intake is just one component of your overall success. Bodybuilding requires commitment, dedication, self-awareness, and sacrifice. With Swovlerine Athlete Hunter Sipovac's 16-week bodybuilding prep program, you'll build more muscle mass, strength, and create a well-defined physique good enough to compete with the best. 


The Workout
This program will provide you with all the information you need to know on how a bodybuilder trains for a 16-week prep for a competition. There are four different sections of this program. Every four weeks, there will be a slight modification to training parameters such as exercises, sets, repetitions, etc. Intensity is a key factor in this program. The goal is to build more lean muscle tissue to obtain a well-defined and aesthetic physique, therefore your intensity should match your desire for results. Each section of this program will be labeled with the specifics of each week and what they will consist of. There will be a brief intro before each section explaining the reasoning behind low/high reps, moderate/heavyweight, drop-sets, and pyramid sets.
Bodybuilding is conventionally performed utilizing an intensity between 50-70%, with 3-5 sets, of 8-15 reps, with 1–3-minute rest intervals, supersets, drop sets etc. Bodybuilding is systematically designed to increase gains through periodization, ensuring progressive overload, performed with traditional split training isolating specific muscle groups, designated to certain days (i.e., back and biceps, chest and triceps, legs and shoulders).
Benefits
Fat Loss
Increased Muscular Strength
Increased Muscle Mass
Improve Peak Power Output
Enhance Aerobic/Anaerobic Capacity
Increased Core Strength & Core Stability
Defined Aesthetic and Physique 

Includes
16-Week Bodybuilding Prep 
Supplement Recommendations
Foods List
Equipment (What You'll Need)
Barbell
Plates (25-45lb, with a maximum load exceeding 135lb)
Bench
Gym Equipment (Facility Access)
Dumbbells (Moderate – Heavy)
Payment & Security
Your payment information is processed securely. We do not store credit card details nor have access to your credit card information.