Roll over image to zoom in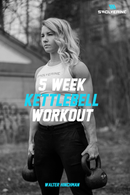 Description
There's a reason why Gerard Butler won, the year's "Most Shredded" award for his role as Leonidas in the film 300. You guessed it – Kettlebells.  It doesn't get much better than cutting through the tension of gravity with nothing but your own momentum and 35lbs of pure iron. Simple, yet extremely versatile, kettlebells create constant tension, while performing compound and functional movements, working for multiple muscle groups, stabilizing muscles, and joints all in one fluid motion. With this 5-week kettlebell training program, you will perform a variety of functional strength and conditioning exercises to exponentially burn more body fat and increase your strength, all while improving functional body movement and mobility. 
The Workout
Training under tension and constant resistance provide numerous health and athletic performance benefits. This kettlebell training program can help with functional components of dynamic movement, improve strength, optimize body composition, and enhance muscular endurance.  
Additionally, this kettlebell program can benefit your mobility, balance, improve core strength/stability, and improve peak power output. Research has shown that full-body kettlebell workouts, 3x per week can improve pain scores, reducing pain intensity in participants' neck, shoulders, and lower back. Study results also showed improvements in muscular strength of the low back.
Benefits
Weight Loss
Increased Muscular Strength
Increased Muscle Mass
Improved Mobility
Reduced Pain Intensity
Enhance Muscularly Endurance
Improve Peak Power Output
Enhance Aerobic/Anaerobic Capacity
Includes
5-Week Full Kettlebell Workout
Supplement Plan
Equipment (What You'll Need)
Kettlebells (Moderate – Heavy)
Great leg workout
Easy to purchase. Great workout to do alone or in addition to your own leg workouts! Easy to follow
Melissa, we are SO EXCITED you are seeing some great results with the program! You can download your free cookbook here https://bit.ly/3sic9VV
Payment & Security
Your payment information is processed securely. We do not store credit card details nor have access to your credit card information.
Customer Reviews
12/20/2021
Melissa P.

United States
I recommend this product
Great leg workout
Easy to purchase. Great workout to do alone or in addition to your own leg workouts! Easy to follow
Melissa, we are SO EXCITED you are seeing some great results with the program! You can download your free cookbook here https://bit.ly/3sic9VV