Roll over image to zoom in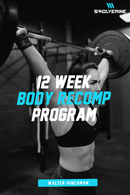 Description
Losing body fat and building muscle mass requires way more than just hitting the gym and lifting weights a few days a week. It takes discipline, consistency, commitment, and planning. Body optimization can be a slow and tedious process, especially if you're already in decent shape. The last few percentage points and pounds are always the hardest to lose and require the most attention to detail. Eating whole foods, adding key vitamins and supplements, and tracking your nutrient intake are crucial for success. And with the right training program, you'll be able to shred, cut down body fat, and build more muscle mass in no time.
With this 12-Week Body Recomp program, we are going to take you through a high-volume 3-day split, 6 days on, 1 day off with a focus on form and workout intensity, to help you shred body fat and gain more muscle mass. 
The Workout
When the training intent is to lose weight, then your program focus will be your intensity, tempo, and heart rate. Conventional resistance training splits require an intensity between 50-70%, with 3-5 sets, of 6-12 reps, with 1–3-minute rest intervals. Bodybuilding is systematically designed to increase gains through periodization, ensuring progressive overload, performed with traditional split training isolating specific muscle groups, designated to certain days (i.e. back and biceps, chest and triceps, legs and shoulders). This program incorporates this same type of training split, but with higher volume, increased intensity, shorter rest intervals, not quite supersets but accelerated functional movements.
You will perform 4 sets per exercise, performed at 70-85% intensity, with a 5% increase per set. Prescribed reps will range between 16-12 with 20-45 second rest intervals, between each set. This program follows a 3-day training split, performed twice per week. Heart rate will be a crucial factor in this program and dictate the tempo of your workout. You can utilize an apple watch, whoop, garmin, fitbit etc. Your heart rate needs to be between 140-155 BPM at all times. This workout should not take you any longer than 45 minutes for the resistance training protocol. Added aerobic and cardio components will add an extra 20-45 minutes per workout consisting of steady-state cardio, or sprints. 
This program follows a 3-day split, 6 days per week, with one rest day, and is to be followed for 12 weeks. This program follows a linear progression, meaning as time goes on, you will need to increase the load or weight, in order to build more muscle and cut body fat. The load is not as important as hitting the prescribed rep volume – every rep counts, and as you perform more work, you'll burn more calories. Despite the weight you choose, make sure you're hitting the volume.  
Benefits

Weight Loss
Reduced Body Fat
Increased Muscular Strength
Increased Muscle Mass
Improved Mobility
Reduced Pain Intensity
Enhanced Muscular Endurance
Improved Peak Power Output
Enhanced Aerobic/Anaerobic Capacity
Increased Core Strength & Core Stability
Improved Functional Fitness
Includes
12-Week Workout Plan

Supplement Recommendations

Weight Loss Tips
Foods List
Equipment (What You'll Need)
Kettlebells (Moderate – Heavy)
Barbell
Plates (25-45lb, with maximum load exceeding 135lb)
Bench
Resistance Band (moderate to intense)
Dumbbells (Moderate – Heavy)
Phenomenal Program
At the tender age of 54, I want/needed to change my body. Many other programs worked but didn't give me the challenge and change I was looking for. I came across the 12 Week Total Body Recomp Program and liked the what the program has to offer. I feel a change already in my body and the program definitely has me challenging myself. When this program ends I will be going into the 8 week Muscle Building program. Thanks for an amazing program.
Payment & Security
Your payment information is processed securely. We do not store credit card details nor have access to your credit card information.