Roll over image to zoom in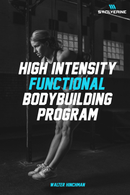 Description
If you're looking for a workout program that is going to be dynamic, fun, and challenging, then this is the program for you. High-Intensity Functional Bodybuilding [HIFB] is a term created by Swolverine CEO Walter Hinchman. It's a hybrid training protocol, that uses multiple workout modalities such as high-intensity functional training methods, functional bodybuilding plans, accelerated cardio and interval training. By combining these training methodologies, you can build more muscle and strength, burn more body fat, and optimize your athletic performance.
HIGH-INTENSITY FUNCTIONAL TRAINING [HIFT]
High-intensity functional training (HIFT) methods have exploded in popularity over the last ten years. A recent survey conducted by the American College Of Sports Medicine found that high-intensity training methods are in fact one of the leading trends in the fitness industry.[1]
High-intensity functional training programs are designed to incorporate multiple facets of training modalities, including principles of high-intensity interval training (HIIT) and functional training where relatively short bouts of high-intensity exercise are used as an alternative to traditional aerobics training to promote metabolic conditioning. HIFT uses a training approach and principles from HIIT to structure intervals and use traditional HIIT workouts such as interval sprints, and rows as part of the programming. HIFT includes resistance training movements and Olympic movements, performed at a quick pace under varying loads. HIFT emphasizes multi-jointed compound and constantly varied movements that can be modified to any fitness level.
HIFT programs are designed to build more strength, improve mobility, and produce greater muscular endurance. There's a reason why Navy SEALS incorporate the same type of training in their tactical workout programs. If you're ready for an all-out assault on what your body is truly capable of this training program is definitely for you.  
FUNCTIONAL BODYBUILDING
This functional bodybuilding program is very similar to traditional bodybuilding. The only difference between the two is the training objective. Bodybuilding's sole purpose is to create perfectly defined aesthetics. Our functional bodybuilding plan focuses on building strength and improving mobility to achieve better athleticism, workout performance, and to maximize your function based around human movement in a practical application. For example, bicep curls will help create a more aesthetically pleasing physique, yet they won't necessarily help with the strength needed to perform common daily tasks.
The Workout
This High-Intensity Functional Bodybuilding [HIFB] program follows a standard "bro split" with an added HIFT [High-Intensity Functional Training] workout added to help fire up your aerobic/anaerobic threshold and burn more calories. By splitting between two muscles groups, you'll undoubtably build more muscle and strength. This workout is dynamic, keeping things fresh and fun, while also keeping your focused on your goals. 
Benefits
Weight Loss
Increased Muscular Strength
Increased Muscle Mass
Improved Mobility
Reduced Pain Intensity
Enhance Muscularly Endurance
Improve Peak Power Output
Enhance Aerobic/Anaerobic Capacity
Includes
6-Week Workout Plan (3-day split/Repeat)

Supplement Recommendations, Timing, & Dosage

Foods List
Equipment (What You'll Need)
Kettlebells (Moderate – Heavy)
Barbell
Plates (25-45lb, with a maximum load exceeding 135lb)
Bench
Box (Something to jump on)
Bosu Ball
Resistance Band (moderate to intense)
Dumbbells (Moderate – Heavy)
Payment & Security
Your payment information is processed securely. We do not store credit card details nor have access to your credit card information.